Acura car locksmith in Las Vegas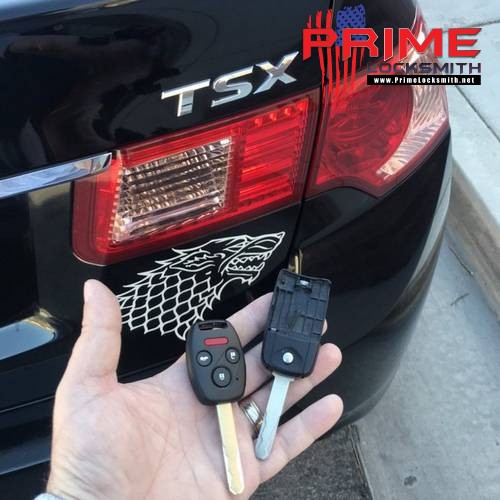 Request a free estimate for
Acura locksmith services
Here are some of the Acura vehicles that we work with: Acura MDX, Acura RDX, Acura ILX, Acura NSX, Acura RL, Acura TL, Acura TSX, Acura ZDX, Acura Integra. These are just a few examples of Acura vehicles we service. The rule of thumb is that if the car was manufactured by Acura, our team of locksmiths will be able to fix its lock!
Looking for a professional Acura locksmith to service your car locks? Emergency car lockout situation? Our expert Acura locksmiths can help you out. We are available and can be there in just 30 minutes!
Prime Locksmith is one of the renowned Acura locksmiths in Las Vegas. We provide you with a new Acura replacement key for your car. The latest models come with smart ignition technology, and they use a transponder key, which can be problematic for ordinary car locksmiths to reprogram. Call our customer care representatives for fast, reliable, and professional locksmith services for all your Acura automobiles.
Full range of Acura key solutions in Las Vegas
Acura is built to last a long time, but circumstances can lead to the above and more Acura key problems. Take the guesswork out of being stranded in sticky situations by contacting Prime Locksmith for a broad range of solutions spanning:
Broken key extraction
Key cutting
Transponder key reprogramming
Trunk opening
Key replacement
Lock maintenance and repair
Ignition and alarm system repair and replacement
Emergency car lockout services
Problems and instances when you should call us
Various situations and problems can be to your advantage. We take pride in having served over a thousand customers who find themselves in precarious situations. We offer Acura locksmith services including:
Power door locking problems
Power doors are one of the best inventions, and a malfunctioning power door actuator could give rise to problems with your power door locks. Our professional Acura locksmiths can handle this servicing issue easily. We have locksmiths with electrical training and can troubleshoot and provide a solution to your faulty power door locks problem.
Faulty Ignition System
You might have your keys intact, but the car will not start, and for the new models, the transponder key will not start the engine. We have invested in getting the latest and approved equipment for cutting new keys, reproducing central locking fobs, reprogramming your transponder key, as well as fixing the ignition system, as you wait.
Broken Acura key in ignition or door lock
This is among the most common problems we encounter from most of our clients. It happens when the key gets stuck in your ignition or on your door lock, and you cannot turn it. Forcing the key can cause it to get broken. Each locksmith we hire has expert skill and experience in Acura key replacement services.
Trunk opening
Acura is one of the automakers that have gone to great lengths to secure the trunks of their cars. By accident, your keys can fall in the trunk and close it only to realize the mistake later. We have the necessary resources to extract your keys from the trunk without causing damage to the locks in your trunk.
Professional and qualified locksmiths
Professional locksmiths are not easy to come by, but every once in a while, you find one that you can trust. At Prime Locksmith, we have dedicated time and resources to giving our Acura key locksmiths advanced training in the latest technology that Acura models are using. This allows us to provide professional services wherever you are. We are also keen on training our locksmiths to be professional as well as be friendly during the entire process we will be at your service. Get in touch for details of our closest mobile locksmith near you.
Irrespective of the model or make of your Acura vehicle, we have a dedicated customer care representative that dispatches our locksmiths to your location within 30 minutes. You can call us and you can expect the professional to make you a Acura replacement key on the spot!
We can provide key replacement services in Las Vegas NV for the following car brands: