Home lockout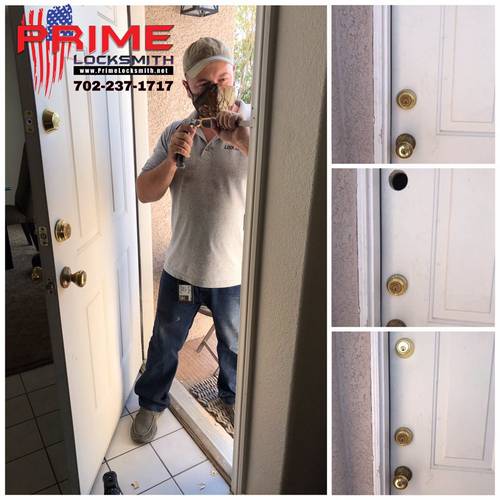 Request a free estimate for
locksmith services
Home lockout is stressful experience that require time-sensitive solutions from expert locksmiths. Prime Locksmith team is available seven days a well, all year long for emergency house lockout problems. We operate in your local area and we can reach you in 30 minutes to restore your access to your house or apartment on the spot.
Our house lockout services in Las Vegas
A home lockout is an unfortunate incident where you cannot enter your house because of a number of reasons, usually a missing key or a broken lock. Keys locked in the house by accident, stolen, lost, or broken keys, and worn-out or stuck lock mechanisms, are the main culprits for home lockout occurrences. When a house lockout happens, stay calm and avoid panicking. Your problem has a quick solution just waiting for your call: the Prime Locksmith emergency lockout service near me.
Our emergency home lockout experts are available. And they work with the right tools and procedures that will not cause any extra hassle and trouble. Give us a call and let us send over the nearest technician access into your apartment or house and save you precious time, energy, and money.
Stuck key removal services
Sometimes, a key stuck in a broken or jammed cylinder might be causing the home lockout. In this case, our locksmith will safely remove the key from the lock and either proceed to repair the broken lock using replacement parts or recommend a lock re-key job or new lock installation. The key may also be at fault for the problem. In which case our technicians will proceed to cut a spare for you on the spot.
Missing or stolen keys
Other times, a missing or stolen key may be the culprit for a home lockout. This problem will usually require the lock to be re-keyed or replaced to restore your access to your home, as well as to restore your sense of protection and security. Re-keying your locks in this scenario will help make sure no one will be able to use your keys to enter the premises without your consent.
Faulty or obsolete locks
At times, depending on your security needs, budget, and our locksmiths' recommendations, we may also advise you to install a new lock. This is usually the case for obsolete lock models and poor-quality brands that are easy to pick by neighbourhood burglars. However, it may also be the case for smart locks that use keypads and/or fingerprint access together with a physical key as backup. If you have forgotten your keypass to your electronic lock, the lock system has broken down or you cannot find your backup key, we can fix the problem for you.
Licensed and insured home lockout services in Las Vegas
We only work with certified, licensed, insured, and/or bonded locksmiths. This means you can expect knowledgeable, skilled technicians with lots of hands-on experience to reach your address and provide you with the assistance you are looking for. Our professional home lockout services are fully aligned with the highest industry standards. This helps us guarantee a flawless, safe, and lockout efficient job every time. In addition to our locksmith technicians being fully certified to provide the entire range of house lockout, lock repair, and key cutting solutions, they also continuously go through further training. This enables them to stay up-to-date with the freshest industry trends and embrace the use of new and better lock picking tools.
Affordable home lockout prices
Whether you need assistance with a broken or faulty complex keyless high-security lock that is preventing you from entering your home, or you are simply looking for standard commercial grade-2 lock picking, give us a call. We charge the most competitive and affordable home lockout prices in your area.