Business locks installation, repair services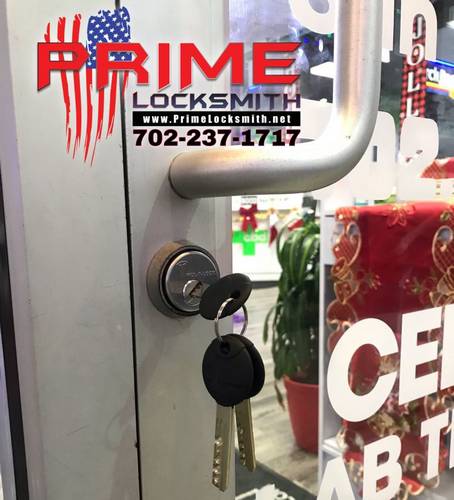 Request a free estimate for
locksmith services
If you want the absolute best locks for your business hire our professional new lock installation service. We specialize in all types of lock installations for the full range of customers at the best prices in the area. No matter if you are looking for smart lock technicians or you need assistance with standard deadbolts and mortise locks, call us now. We work quickly, flawlessly, and at affordable prices. Schedule an appointment with us right now or call on our mobile locksmith services for all types of lockout emergencies.
Locks installation and repair services we provide in Las Vegas
Our team specializes in the entire array of professional commercial lock replacement solutions for all types and brands of locks. We specialise in fixing, upgrading, replacing, and installing locks for commercial spaces. Call us if you need:
new commercial lock installation
broken commercial lock replacement
commercial lock repair
various types of business lock installations
New lock installation services for office
Some of the main reasons why you may consider installing a new lock on your front door include:
broken, worn-out, or upgraded locks that get stuck
moving into a new commercial space
getting ready to receive new tenants in a rental home
security system updates
faulty master lock systems
old employees left with the keys
new business owners
lost, missing, or stolen keys
Whether you are a commercial space owner yourself, a tenant, a landlord or a real estate agent interested in changing the locks on your property prior to the start of a new tenancy, we have your back. Get in touch with us, let us asses your exact lock vulnerabilities and security needs and recommend the best solutions.
Business lock installation and replacement in Las Vegas
Businesses know the value of high quality professional services so that's what you should demand from suppliers to our business. We offer specialist security services to commercial organisations and our locksmith services are part of that overall provision. As well as having the skills to install and replace locks we can offer professional advice on the best locks for your business as well as the best way to maintain them and manage multiple locking systems.
Business lock repair in Las Vegas
Locks can degrade over time or be damaged through tampering or over use. If your locks are compromised, so is your security. We can offer a responsive lock repair service from a professional locksmith.
A lock is a mechanical device with moving parts and therefore faults can occur. Locks can become jammed, keys can breakin them and of course they could be damaged deliberately by would-be intruders. Many may assume that this would require the lock to be replaced but that's not always the case. As professional locksmiths we can often repair locks on site and we would always try to do so wherever it's more cost effective.
Affordable locks installation and repair prices
Get a free price quote today to learn how much you should expect to invest in your upcoming security upgrade on your commercial locks. The final cost will depend on the make, model, and brand of the chosen lock and the complexity of the installation procedure.
We take great pride in the fact that our lock replacement and lock installation prices are the most competitive in Las Vegas area and the surroundings.
Prime Locksmith is a mobile technician service. We are always on the move and, as a result, never too far away. Calling us to replace your commercial locks is incredibly simple.
Trusted locksmith businesses like Prime Locksmith are the best option for commercial lock installation. We are the only ones with the correct expertise and experience to replace a lock correctly and without problems.
We have been in business for over 5 years, so call us today for your commercial lock installation.