Commercial lock rekey services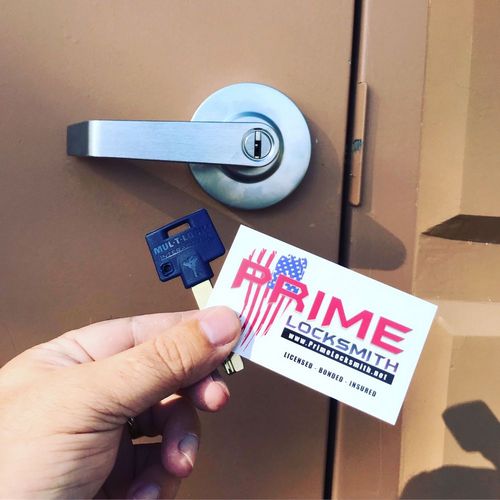 Request a free estimate for
locksmith services
Commercial establishments should always have their locks upgraded from time to time. As new locking technologies emerge and as the nature of threats become more severe, old locks become vulnerable and it is wise to upgrade the systems, sooner than later. There are many ways you can upgrade the locks in your office or commercial building. You could change the locks or you could hire a commercial lock rekey service Prime Locksmith in Las Vegas.
Professional commercial locks rekey in Las Vegas
Do you need immediate lock rekeying services at good prices? Get in touch with us! We are the number one locksmith in the area and we offer affordable and accurate lock rekey solutions to a variety of clients. Save money on lock replacement for your home or business needs with us.
What kind of lock rekeying services do we offer?
We specialise in the entire array of lock rekeying solutions for residential and commercial buildings. These are some of the most frequent lock rekeying services we are hired to do:
residential lock rekeying for deadbolts and mortise locks
mailing box lock rekeying
office cabinet lock rekeying
cabinet door lock rekeying
Commercial lock rekey services in Las Vegas
If you have recently rented a new office space or you need to gain better control over who can access your commercial building, our commercial rekeying services are an excellent money-saving option. We can help you control all the interior locks in your building with just one master key. Our cost-efficient services also include setting up a complex master lock and key plan for you for enhanced protection. The downtime for your business will be kept at a minimum during the rekeying process. Lock rekey always takes less than new lock installation, so make sure to consider this aspect when deciding if you should invest in new locks or simply recode your old ones.
When to rekey a lock?
If you are not certain whether you should consider hiring a lock rekeying company, keep your existing locks, or install new locks altogether, we are here to help. Our technicians will inform you about all the advantages that come with lock re-keying and new lock installation. If you are simply searching for a lock assessment form a professional locksmith company, get in touch with us. We will let you know if your locks need any work or not, while saving you precious time, energy, and money.
Here are top reasons why you should consider hiring our lock rekeying company:
You have just moved into a new home or commercial space. Enjoy more privacy and peace of mind knowing you are the only key holder who can get access to the property by rekeying the old locks.
You have lost the keys to your home or office space. This is another solid reason to consider the lock rekey alternative. Anyone could find your keys and learn which door they open. Make sure to be proactive and keep the risk of a burglary or break-in to a low with the Prime Locksmith lock rekey services.
Your are a landlord and you are changing tenants. One of the safest ways of making sure none of the old tenants will be able to access their old rental is by having the locks rekeyed every time a tenant moves out.
We offer emergency and scheduled commercial lock rekey service in Las Vegas. We are available every day and we don't overcharge on weekends. You can consult us, hire us for an immediate resolution or you can schedule the entire project. We can confine our commercial lock rekey service to the main locks or we can rekey every commercial lock that you have.
Prime Locksmith is the best choice for commercial lock rekeying. Hiring a professional can accomplish a variety of goals that are achievable when you rekey business locks. With a trained locksmith, you are doing this without the risk of damage or mistakes.