Commercial grade locks and deadbolts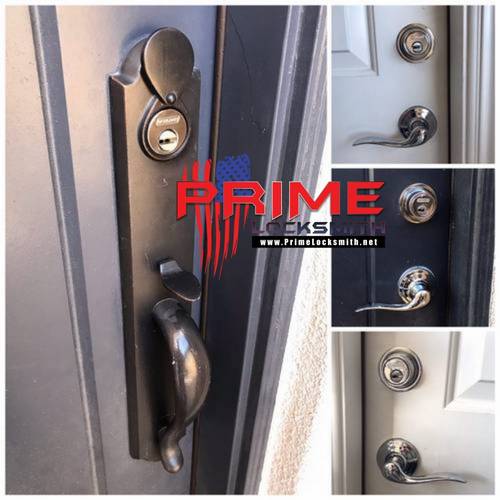 Request a free estimate for
locksmith services
Protect your office with high-quality deadbolt locks
It's no secret; commercial security starts at the main entry points. But even when you invest in high-security hardware and locks, how can you be sure that the office building or business facility is actually secure?
A door without a deadbolt can present an unfortunately tempting target for burglars and intruders. While having a heavy-duty door with a solid core can make it more difficult for a successful forced entry, one crucial security element that can make it even more difficult is a reliable, well-made deadbolt.
When you decide to install new commercial deadbolt locks or repair your old ones, Prime Locksmith should be the first place you call. We offer complete locksmith services in Las Vegas, NV and the surrounding area. With our fast and friendly service, expert technicians with 5+ years of experience, and 30 minute response time, our mobile locksmiths will have your locks fixed in no time at all. We provide locksmith service every day, and we're licensed, bonded, and insured so you know you can trust us. Contact us any time for our commercial deadbolt locks installation and repair services.
What is a commercial grade lock?
Commercial grade locks come in three different grades, either a 1, 2, or 3.
Grade 3 is considered a standard lock, typically used for residential doors. They are also often used in areas not open to all traffic, such as supply closets, offices without expensive equipment or break rooms.
Grade 2 locks are used for residential areas with more traffic, such as a door leading into an apartment building of complex. Some businesses can also use Grade 2 locks for areas that require a higher degree of security. That can include an office or doors to storage rooms housing valuable merchandise, equipment or other materials.
Grade 1 locks are considered the strongest of all. This grade is given to the most secure commercial door locks. Also this grade is given to the locks that are placed at high-traffic areas like schools, hospitals and museums. Grade 1 locks are also expected to have longer lives than lower graded locks.
Deadbolt locks installation, replace and repair services in Las Vegas
At PrimeLocksmith, we are dedicated to providing you with the best deadbolt locks for your home or business. And there are no locks that will make your home or business more secure than deadbolt locks.
Maybe you already have a deadbolt lock but it is older or does not work properly. Feel free to give us a call to come check it out. Not only do we replace old deadbolt locks but we also repair them. Our skilled locksmiths will be able to assess your existing locks and let you know what we can do to make you feel safer. Your safety is our top priority. Call us anytime for all of your installation and repair needs.
Deadbolt locks are an effective and simple way to increase the security of your home or business. Whether you just moved in or had a break in recently, our fast and friendly, expert technicians will be there to make sure you feel secure. Our technicians have 5+ years of experience. So you know that when you need honest, upfront pricing for complete locksmith services, you can count on us.
Your safety and peace of mind is our top priority
At Prime Locksmith, we want you to feel safe and secure. That's why we have devoted ourselves to offering the absolute best in complete locksmith services for Las Vegas, and the surrounding areas. If you're looking to install or repair deadbolt locks, or maybe you got locked out and need help now, our mobile locksmiths have a 30 minute response time. So you can count on us to be there for you when you need us most. Call the locksmith you can trust. We are licensed, bonded, and insured. Which means you are in safe hands when it comes to getting quality locks and exceptional service.