Lock and deadbolt installation services in Las Vegas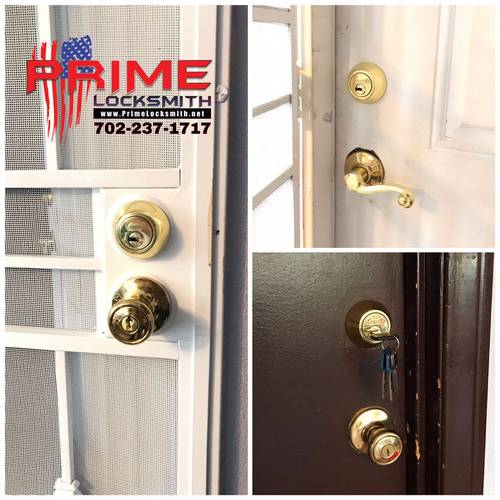 Request a free estimate for
locksmith services
If you want the absolute best locks for your home hire our professional new lock installation service. We specialize in all types of lock installations for the full range of customers at the best prices in the area. No matter if you are looking for smart lock technicians or you need assistance with standard deadbolts and mortise locks, call us now. We work quickly, flawlessly, and at affordable prices. Schedule an appointment with us right now or call on our mobile locksmith services for all types of lockout emergencies.
Residential lock installation services in Las Vegas
Prime Locksmith provides proficient and reliable locksmith services at a very affordable price. Our wide range of locksmith solutions comprises door lock repair and replacement, emergency lockout services, as well as, professional lock installation in Las Vegas. We offer high quality security locks to meet the market's current standards.
Our lock fitting technicians have the expertise and experience required to handle any type of new door lock installation service – from simple fitting of door locks to complete door entry systems installation. Our well-equipped locksmiths will always use the latest tools in order to work smoothly and do a satisfactory job. Specialists Prime Locksmith will also help you choose what lock is perfectly fitted to your door.
Our team specializes in the entire array of professional lock installation solutions for all types and brands of locks. Call us if you need:
new lock installation services for homes spaces
broken home lock replacement
new home lock installation
various types of home lock installations
Locks models that we install
Prime Locksmith team works with a variety of lock styles suitable for front doors and interior doors, including doorknob locks, mortise deadlocks, rim latch locks, privacy locksets, dummy knobs, surface-mounted deadbolts, night latches, keyless entry systems, or handsets.
New lock installation services for home
Some of the main reasons why you may consider installing a new lock on your front door include:
broken, worn-out, or upgraded locks that get stuck
moving into a new home
getting ready to receive new tenants in a rental home
faulty master lock systems
old tenants left with the keys
recent neighbourhood break-ins
new home owners
lost, missing, or stolen keys
Whether you are a home or commercial space owner yourself, a tenant, a landlord or a real estate agent interested in changing the locks on your property prior to the start of a new tenancy, we have your back. Get in touch with us, let us asses your exact lock vulnerabilities and security needs and recommend the best solutions.
High-quality lock installation service in Las Vegas
A residential locksmith is your best bet to ensure proper and effective home lock installation. At Prime Locksmith, we promise that our highly-trained and experienced locksmiths will provide the best solutions for any house locksmith service needs. All of our locksmith technicians are fully certified and insured. We always come prepared with all the required tools and equipment for various door repairs or home lock installations.
Prime Locksmith will ensure that you will get the best residential lock installation in Las Vegas NV. Our best means that you won't have to worry about a do-over because we will provide our service to the tee. We won't leave your home without finishing the task and ensuring that your home is safe. Furthermore, our team of professionals is highly-skilled in any type of lock and door that's why we will guarantee you that you will get the best value for your money.