Mailbox installation and unlock services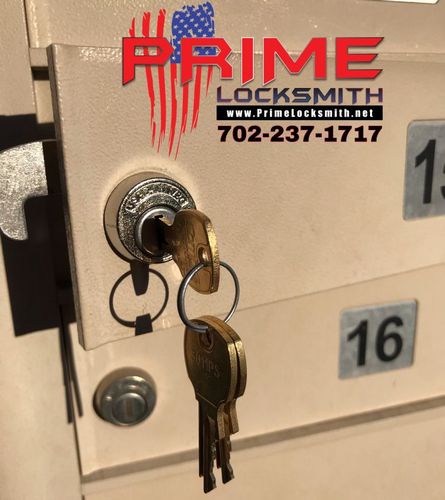 Request a free estimate for
locksmith services
Our locksmiths specialize in providing efficient solutions for mailboxes lockout and installation, ensuring secure and reliable access to your mailbox. Mailbox security prevents access to your personal and business mail. Prime Locksmith has a wide variety of solutions to meet both residential and commercial mail security requirements.
Your mailbox locks may be old, rusted or need replacement. We can help with any mailbox lockout, mailboxes lock installation or any mailbox services you need.
Professional business mailboxes lockout & installation in Las Vegas
If your mailbox lock needs replacing or you want to have a new mailbox key made, our nationwide locksmiths can help. Let our mailbox locksmiths care for all your mailbox security needs.
If you are looking to have the lock on your mailbox changed or you're looking to have a jammed key removed from your mailbox, we assure you that we can be of service to you. Our mailbox locksmiths can help you with any of the following services:
mailboxes lockout
mailbox lock repairs
mailbox lock installation
mail box lock rekeying
mailbox lock replacement
mailbox lock changes
jammed mailbox key extraction
mailbox key duplication
mailbox key cutting
When you need help with the mailbox installation, you need a completely new lock or key for your mailbox, we can help provide you with the commercial locksmith technician from Prime Locksmith who will be able to help you.
Mailbox installation
Let our locksmiths install a secure mailbox that will keep your mail more secure than ever. Contact our locksmith team to keep your mailbox secure at all times.
Mailbox lock repairs
Our fully qualified mobile locksmiths have every mailbox lock in stock at all times, and our technicians are available to service your locks at all hours of the day. Repairing your mailbox lock will take our locksmith only 15 minutes to do, and your mailbox will be fully secured once again.
Mailbox lockout services
Mailbox lockouts can happen for several reasons. The mailbox key can get lost, someone can steal it or it may break. As a house or car lockout can happen to you, so can the mailbox lockout. It might sound ridiculous but when you are waiting for an important letter from work or school, it can be really frustrating not to be able to open your mailbox. In that situation, there is no other option than using house locksmith services. Our nearest locksmith will reach you quickly if you are locked out of your mailbox and will make you a new key for your mailbox so you can get to your important mail.
Why you need a commercial mailbox lock change
Whether you're a new business building an office headquarters or an existing company moving to a new facility, a commercial mailbox change is essential. Your company's ability to operate proficiently depends on paperwork being delivered, organized, and secured — and that all starts with a quality mailbox lock.
Office mailboxes hold important documents like invoices, money orders, bank statements, contracts, and employee records that must be protected and remain confidential. At Prime Locksmith, we believe you deserve the comfort of knowing that your mailbox isn't susceptible to tampering, so you can focus on running your business.
Locksmith services for all types of mailboxes
We service all types of wall-mounted mailboxes and mailbox locks for both residential and commercial needs. You can protect yourself from mail fraud and identity theft by availing yourself of our mailbox lock services today. We strive to keep up with the advances in the industry and believe Prime Locksmith is your best choice! We are a trustworthy company of a good reputation. Also we take care of our clients and we want to keep it that way. So we are doing our best to satisfy all your needs.
Contact us to find the perfect mailbox for your needs. We proudly serve customers all across Las Vegas, North Las Vegas, Henderson, and more.