Expert locksmith services for Buick in Las Vegas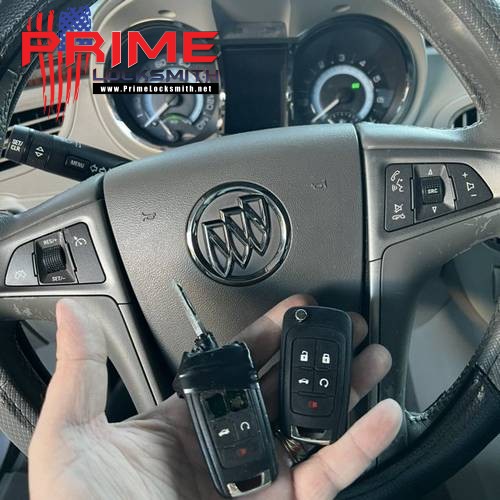 Request a free estimate for
Buick locksmith services
Buick models we serve: Cascada, Enclave, Encore, Envision, LaCrosse, Regal, Verano, Lucerne, Terraza, Rainer, Rendezvous. Whichever Buick vehicle you own, you should know that our locksmith team is who you should call when lock problems happen.
Get your Buick replacement key today by calling our qualified Buick locksmiths. We're available even on weekends & holidays and our services are guaranteed.
Buick key replacement services
We have risen to be the top locksmiths in Las Vegas by the value and convenience we offer to our clients. Whenever you get a problem with your door locks, ignition and alarm system, you only need to contact our customer care representatives, and they will dispatch one of our rapid response crews to your location.
We offer a broad range of Buick key replacement services in Las Vegas
There is nothing worse than hiring a locksmith who cannot offer holistic Buick locksmith services at a moment's notice. We have professionals versed in a wide variety of Buick key replacement services including:
Key fob replacement
Cutting spare keys
Broken key extraction
Ignition and alarm system reprogramming
Car lockout services
Trunk opening
Ignition rekeying
Transponder key programming
Ignition cylinder repair and replacement
Car key extraction
Remote central lock programming
Problems and instances that you should contact us
For the time that we have been in business, we have identified Buick key problems that arise after the continued use of your Buick car.
Car lockout
The typical calls we receive in our call center in Las Vegas are where an individual is locked out of their Buick. This can be due to lost or stolen keys, while sometimes it is due to a key that will not turn the door lock. Car lockout is an emergency, and we ensure that we get you out of the quagmire as soon as possible. Contacts us as soon as you realize that you have been locked out of your car.
Transponder key stops working
A faulty transponder is one of the most common problems we cater to on a daily basis. It is one of the contributing factors for car lockout services. A faulty transponder means that your remote access control will not work.
Worn ignition cylinder
With time, the ignition cylinder inevitably starts to wear out, making the process of starting the engine tiring, and irritating. If you are experiencing this problem, it is due to the wearing down of the wafers inside the ignition's tumbler. In such an instance, you will need to replace the whole ignition, and only a professional Buick locksmith can handle the job in the shortest time.
Key duplication
We have been the solution to thousands of people looking for a Buick locksmith who can make a spare set of keys for them and offer cheap car locksmith prices. The wise thing to do when you purchase a new or used Buick is to make a copy of the original key that comes with the vehicle. Store the original Buick key and use the spare key. This makes it easy to cut a Buick key duplication with factory precision and accuracy.
Why you should contact us
We have not risen to be the top Buick locksmiths in Las Vegas by providing shoddy services. We pride ourselves in the provision of professional services at the best competitive rates in Las Vegas. Here are the reasons why you need to take the guesswork out of hiring Buick locksmiths and contact us as soon as you have the above and more Buick key problems.
Our Buick locksmiths are well equipped with the necessary tools and resources to handle the above services at the earliest time of your convenience. Note we offer the cheapest car locksmith rates in Las Vegas.
No matter the model or make of your Buick, at Prime Locksmith we have a rapid response crew that will arrive within 30 minutes to fix the problem professionally on the spot. We offer all the services at the most competitive prices in the market.
We can provide key replacement services in Las Vegas NV for the following car brands: