Chevrolet locksmith services in Las Vegas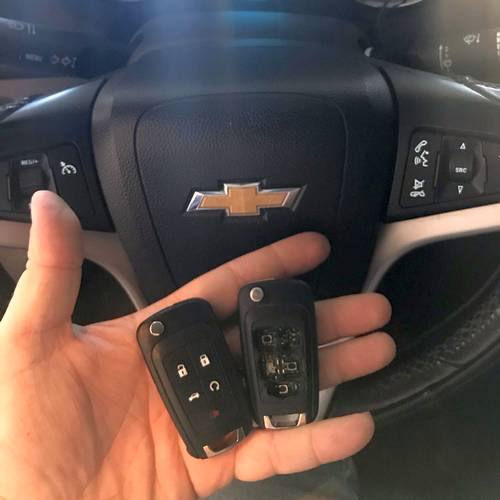 Request a free estimate for
Chevrolet locksmith services
We work Chevrolet key replacement or lock repairs in Las Vegas with of the following Chevrolet car models: Tahoe, Corvette, Silverado, Impala, Camaro, Malibu, Equinox, Captiva, Spark, Express, Colorado, Volt. The above are some of the cars we provide Chevrolet locksmith services to. Thousands of clients over the years have been our motivation to expand our list of services to provide holistic solutions to Chevrolet locksmith services.
Are you facing issues with the locks in your Chevrolet? If yes, you need an urgent solution from Prime Locksmith anywhere in Las Vegas. You don't have to take any stress, as we are just one call away, and we will fix your problem in no time. Call us now.
At Prime Locksmith, we can provide you with a Chevrolet duplicate key if you need a spare Chevrolet Key for emergencies or craft a replacement Chevrolet key if you lost it.
We can also offer our specialist services to work with the locks of your vehicle, repair any damage to the complicated Chevrolet locks in cases of jammed pieces stuck in the cylinder.
Our locksmith services for Chevrolet in Las Vegas
Some of our Chevrolet car locksmith services include:
Lock repairs
Lock security testing
Lockout services
Broken and jammed key extraction
Key duplication
Trunk lock repairs and replacement
Chevrolet key duplication
What if the reason car lockouts are a lost car key? Even if that is the case, you still have nothing to worry about as our team of locksmiths can do key duplication on the spot. They don't need original keys; all they need is access to the lock, based on which they'll make the new keys.
Broken key extraction
Apart from repairing locks, our team can also deal with problems in which the key to your Chevrolet is involved. For example, if it gets stuck inside the lock, you can call us to extract it.
Faulty Chevrolet key fob
The modern versions of Chevrolet vehicles use a key fob to start the engine, and with time, it can stop working. This will mean that you are stuck on the spot without a way of starting the engine. This problem will require the services of an experienced professional. We have access to the Chevrolet key fob and transponder database, and this allows us to reprogram your new Chevrolet key fob right on the spot.
Chevrolet lockout services
Our emergency locksmith teams have the tools needed to pick a Chevrolet lock safely, without causing any damage. Furthermore, our locksmiths have the skills to do this job without making your car alarm go off.
Affordable and licensed help
Car lock and key problems are usually difficult to handle on your own and they take a lot of your time, energy, and money. Do not let an inexperienced locksmith service your Chevrolet locks, ignition switch or keys. Contact us today, schedule an appointment and let us reach you for emergencies. We charge some of the most affordable locksmith prices in on the market.
Call today if you suspect something might be wrong with your Chevrolet locks or keys. And let us show you why we are one of the top locksmiths in Las Vegas! Ask us about our affordable prices and prompt response times!
We can provide key replacement services in Las Vegas NV for the following car brands: