Top Dodge locksmith service in Las Vegas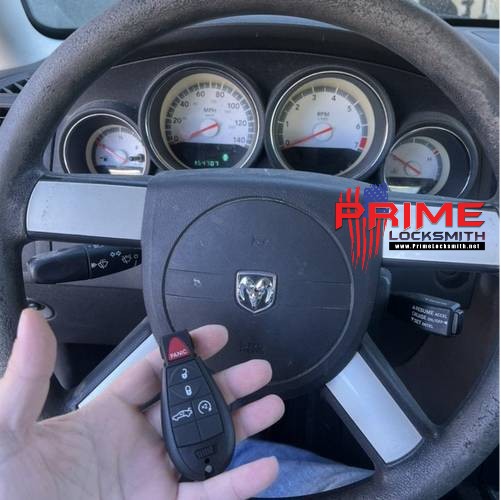 Request a free estimate for
Dodge locksmith services
We have some of the most qualified and experienced personnel who know their way around the following range of Dodge models and more: Avenger, Caliber, Caravan, Challenger, Charger, Colt, D50, Dakota, Durango, Intrepid, Magnum, Monaco, Neon, Radar, Ram Charger, Spirit, Ram Pickup, Stealth, Sprinter, Stratus, Viper. The great variety of tools that we own and use allow us to handle all types of old and new Dodge models.
We provide Dodge locksmith services to the more Dodge models and makes in the shortest time possible. To enjoy your Dodge and increase its resale value, you must ensure that a professional maintains it. Many Dodge owners despite taking their vehicles for routine service for maintenance, they always forget to service the locks as well as ignition systems.
Our locksmiths for Dodge in Las Vegas
At Prime Locksmith, we have a strict corporate policy that governs how our locksmiths will execute our various services while giving as much value as possible at the highest level of quality.
We understand that being in a position that you cannot access your car, truck, or motorcycle can be daunting, especially if it is at night. We are among the few car locksmiths that offer emergency services.
Emergency Dodge locksmith services
It is unfortunate when you have issues with your locks, ignition, as well as alarm systems, and they happen at the worst possible time. We have a rapid response team that is at the ready to attend to your needs. We have an array of services we provide to Dodge vehicle owners including:
Keyless remotes reprogramming
Extracting your key from the ignition or door
Emergency key replacement services
Transponder key programming
Lock rekeying and replacement
Ignition switch replacement
Trunk opening
Unlocking the steering wheel
Laser cut transponder keys
Common Dodge key problems and instances you should contact us
Broken key extraction
During a heist on your Dodge, the bulgers go to the extent of ensuring that they lock you out of the car. The easiest way they can do this is by jamming keys and breaking them off in the locks, or ignition. Contact us as soon as possible, and we will be at your location within 30 minutes.
Defective key due to manufacturing
When your car does not start despite using the Dodge key that came with the car, then it could be programming or a cutting error. There is not much you can do other than contact us for professional locksmith services.
Locked-in Dodge key
In the course of a busy schedule during the day, many Dodge owners have called us because they have locked their keys in the car. In 30 minutes or less, our mobile locksmiths will be with you and will help you gain access to your car. While our Dodge locksmith is at your location, make them duplicate your Dodge key. You can keep it in your office, home, or a place you can easily access it to avoid long periods of being locked out of your vehicle.
Ignition system failure
This is among the worst problems we have encountered. A faulty ignition system will mean that your Dodge key fob or manual Dodge key will fail to start your Dodge car. This problem arises due to some reasons including faulty door lock electrical panel and burnt fuses. We provide this common emergency to our growing number of clients almost on a daily basis.
Best Dodge replacement key prices in Las Vegas
Many people take their time with getting the proper Dodge locksmith services and choose to use third parties who will get them a Dodge replacement key and despite not being obvious in the beginning, it costs more. We have various communication channels. Уou can get in touch with our customer care representatives who will give a quote for our Dodge locksmith prices. We ensure to stay on the pulse of the auto locksmith industry to ensure that we can offer the most competitive and fair prices that match the quality of service we offer. Repeat customers get discounts and redeemable loyalty points for various services.
No matter the make and model of your Dodge, Prime Locksmith have the human resource and equipment. A Dodge locksmith can arrive at your location within 30 minutes to fix the problem on the spot.
We can provide key replacement services in Las Vegas NV for the following car brands: