Professional Lexus locksmith services in Las Vegas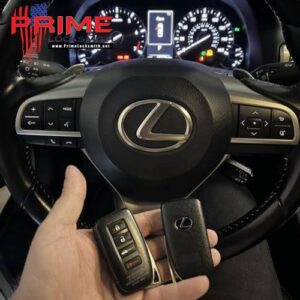 Request a free estimate for
Lexus locksmith services
Some of the Lexus models we service:, ES Hybrid, ES, GS Hybrid, GS, GS F, IS, LS, NX, NX Hybrid, RX, RC, LFA. If you need a locksmith for Lexus, then you have come to the right place. The above are some of the models our Lexus locksmith professionals can handle.
Do you need an authorized Lexus car locksmith for a broken lock or ignition problem? Lost keys or faulty remote key preventing you from getting into your car and at your destination on time? Call now, we are available every day and we cover in Las Vegas, North Las Vegas, Henderson.
We can reach you within 20 to 30 minutes and assist you with any Lexus car lock and key matter on the spot. We provide emergency lockout services and all of our technicians are insured, bonded and licensed. Rest assured you will find the most reliable, affordable and top-quality services with us.
Popular Lexus car locksmith services in Las Vegas
Whether you need help with a jammer of broken lock or ignition switch, you need emergency lock picking because of an accidental lockout or a lost key or you need to reinforce security in your car, we are the people for the job. Here are a few of the most popular locksmith services you are going to find by contacting us through our friendly customer support service:
Faulty lock repair and rekeying services
Roadside emergency assistance
Smart key repairs
High-security lock installation
Transponder key replacement
30-minute service delivery
Keyless entry installation
Our most requested Lexus locksmith services
All of our Lexus clients receive VIP treatment and we promise your precious vehicle will be handled with the utmost care and consideration. We have a zero-damage policy when performing any repair or replacement job thanks to your rich years of experience and practice in the field. Why wait in queue for days at your car dealership only to be charged an arm and a leg when you could benefit from fast service on the spat at a fraction of the costs?
Transponder key replacement
The Prime Locksmith team specializes in providing solutions for the entire array of transponder problems. You can find us available seven days a week, no exception. We can change batteries, replace broken electronic parts. Also we can or replace faulty transponder keys with the help of precious information from the Lexus database of transponder keys. Don't let a broken car remote stop you from driving your car and reaching your job on time.
Broken and stuck ignition switch services
Lots of Lexus drivers are confronted with the inability to start their vehicles because of a faulty ignition cylinder or switch. We can assess your faulty ignition with the help of special diagnostic tools. And we can recommend the fastest and safest solutions to the identified problems. Often times, we will be able to fix a broken lock. It save you important time and money instead of installing a new ignition system. Our mobile Lexus locksmiths carry all brands of Lexus ignition switches and corresponding keys for them. So we can send you back on the road in no time.
Car key replacement services
Because of repetitive use, minor car incidents, improper use or other reasons, keys tend to get broken or stuck inside ignition switches or doors. If this is the case, we will safely remove the damaged keys and replace them with a new set. You will not have to go through the hassle of calling a car towing service if you need help with your smart key programming either. As we also handle this type of service.
Emergency Lexus locksmith services
Lost keys and broken car door locks are usually what prevents you from unlocking your vehicle. Get in touch with us and let us send over the nearest mobile van in your area that can reach you in half an hour no matter where in Las Vegas you may live. All of our vans are fully equipped with the most advanced diagnosis and repair tools in the industry. Which means we can handle any emergency on the spot. We charge some of the most competitive, transparent and affordable prices in the market. We invite you to get in touch with our customer support service for more information. Also we can schedule an appointment at a time and date that are most convenient to you for a minor lock or ignition problem or for car security assessment.
Call now and schedule an appointment with us. Or let us send over an emergency locksmith straight away to help you get back behind the wheel.
We can provide key replacement services in Las Vegas NV for the following car brands: