Professional Scion car locksmith services in Las Vegas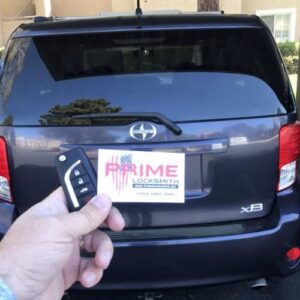 Request a free estimate for
Scion locksmith services
Here is a list of some of the Scion car models that we work with: FR-S, tC, iA, xB, xD, xA, iM, iQ. If your Scion is old or not listed here, don't worry. We service all recognized models of Scion cars.
When locked out of a car and looking for immediate emergency services, Prime Locksmith can get the work done as quickly as possible.
Nobody wants to get themselves locked out of their vehicle. Apart from being a troublesome situation and an expensive affair, it can become a big hassle. Taking the help of a skilled locksmith is imperative to avoid getting the car stolen or damaged. We are a team of experts who fix the lock, key, lockout, and ignition issues for all Scion models.
Our best locksmiths services for Scion models in Las Vegas
Our locksmiths are insured, certified but experienced as well. Here's the list of services we offer to our valued clients:
Lockout services
Assistance for lost car keys
Jammed car key extraction
Lock installation and rekeying
Transponder key programming
Emergency lock repair
Trunk lock picking
Auto lock picking
For more information about our services, call us. Our customer care team is friendly, responsive and eager to attend to your concerns and offer you immediate solutions.
Problems and instances why you should call us
Car key replacement
This service is for individuals who have lost their keys either because they are stolen or misplaced. This is an emergency since it can disrupt your schedule and make for a bad day. We have advanced tools to cut keys and reprogram your transponder to ensure you are well on your way. Contact us as soon as possible, and we will dispatch our rapid response crews to your location at a time of your convenience.
Broken key extraction
Keys being struck in the ignition or lock are a typical instance that happens at the most unfortunate time. Many people who contact us make the mistake of trying to force the key to turn and this is the biggest factor leading to broken keys. We equip each of our Scion car locksmith with advanced tools to extract keys with precision to avoid damaging the lock or ignition cylinder.
Key duplication
After acquiring your Scion, the first step ought to be the making of a set of duplicate keys from the original key. Store the original key and use the copy; the reason for this is that in case you lose the duplicate key, you can always make another from the original key. We bring our key cutting services to you at a time of your convenience.
Scion lockout solutions
Lockouts are common. People often forget their keys inside their car and realize it later when the car has locked itself. Facing car lockout issues at an inopportune time can leave you desolate somewhere.
It can make a horrible effect on your day especially when the weather is bad. A lockout becomes more stressful when you have an important meeting or event lined up. In some situations, a do-it-yourself approach helps but it may not do the trick. If you have to face this, remain calm and call us.
We understand that a lockout can happen any time, so we are available to assist our valued customers. With our expertise and experience, we can unlock your Scion vehicle straightaway. We use advanced lock-picking tools so that your car won't get damaged during the procedure.
Qualified and skilled locksmith for Scion models
We handle lockout emergencies, key replacements, and other locksmith jobs at a reasonable price. Emergency services or services that are offered at odd hours are usually excessive but we work at reasonable rates. We are experts in working on Scion because we have decades of experience and a team with the needed skills.
Numerous things determine the total cost of our services. When you call us, we will listen to your issues and provide a fair price estimate. On-site, our team will assess the condition of your vehicle on the spot and let you know the immediate solution.
Get in touch with Prime Locksmith and we will quickly send our mobile team to your destination. You can trust us to deliver exceptional results!
We can provide key replacement services in Las Vegas NV for the following car brands: