Kia car locksmith services in Las Vegas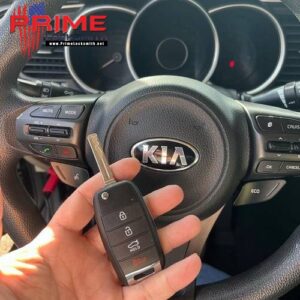 Request a free estimate for
Kia locksmith services
The Kia models locksmith services: Kia K900, Kia Cadenza, Kia Forte, Kia Sportage, Kia Sorento, Kia Niro, Kia Optima, Kia Rio. These are just some of the Kia models and make we provide Kia key locksmith services in Las Vegas.
As a Kia car owner, you probably already know that the car key security mechanism is sophisticated and unique. Whatever the problem might be with your Kia's lock, you can solve it with a simple phone call. So, call our Kia locksmiths right away! And we're there for you and no matter where you might be located, our expert locksmiths can reach you.
Prime Locksmith Las Vegas team has the proper experience and equipment to help in any emergency locksmith case and at affordable prices.
Kia locksmith services in Las Vegas
Here of some of our most popular Kia locksmith services we currently offer:
Broken car lock repairs
Fresh car lock installation
Lock cylinder replacements
Jammed/stuck ignition repairs
Broken key extraction
Duplicate car key making
Key fob re-programming
Car security inspections
Of course, the services mentioned above are just some of the many locksmith services we provide. The fact is that each of our locksmiths is a trained professional with a legit license, meaning that they have the knowledge to deal with a few problems related to locks.
Kia transponder key replacement
The Prime Locksmith in Las Vegas team specializes in providing solutions for the entire array of transponder problems. We can change batteries, replace broken electronic parts, or replace faulty transponder keys with the help of precious information from the Kia database of transponder keys. So don't let a broken car remote stop you from driving your car and reaching your job on time.
Kia lock repairs
Are you having problems locking your Kia due to a faulty lock? The solution is to call us to come by and fix it or replace the old lock with a new one. We have plenty of experience dealing with Kia lock issues, so fixing it should not be a problem.
Kia emergency lockout services
A lockout is by far one of the most stressful and demanding incidents a driver could be confronted with. Provided you are dealing with a broken lock mechanism that hasn't been properly tested for faults in years, or a broken key fob is preventing you from getting inside your vehicle, give us a call. Thus with the help of the most suitable lock picking tools for your Kia car, we can assure you that your car will be unlocked and ready to use again in the shortest time possible and hassle-free.
Competitive prices
We have some of the most competitive prices. You do not have to hold back on fixing the problems above and more. We cater to people with different budgets. And on top of that, we offer discounts to repeat customers whether you have made an appointment, or it is an emergency. So do not hesitate to contact us for fast and professional Kia car locksmith solutions.
No matter the make or model of the Kia vehicle you drive, Prime Locksmith will fix your problem as soon as possible. A professional Kia locksmith will be at your location and fix the problem on the spot.
We can provide key replacement services in Las Vegas NV for the following car brands: