Ford locksmith specialists in Las Vegas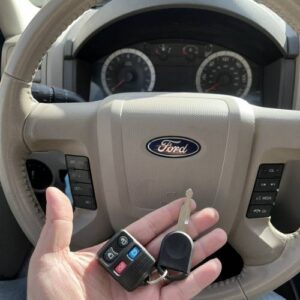 Request a free estimate for
Ford locksmith services
Ford key replacement or Ford lock repairs in Las Vegas: Ranger, Windstar, Falcon, Aspire, Crown, Victoria, Escort, Mustang, Cobra. Modern, old or new – we handle all known models of Ford vehicles. If you can't find what you are looking for in the list below, give us a call. We will be more than happy to assist you, no matter what model you might be driving!
Are you dealing with a faulty lock system that is preventing you from getting in and out of your Ford vehicle? Are you unable to start the engine because of a broken or missing key fob? The Prime Locksmith in Las Vegas team is just what you need! We handle all types of Ford car locksmith services, lockout emergencies included. Give us a call today!
If you are currently searching for a safe and efficient locksmith for Ford cars, the Prime Locksmith team is here to prove to you what high-quality standards truly mean.
Ford locksmith services in Las Vegas
Our locksmiths for Ford have the tools, knowledge, and the experience to solve literally any issue you might have with your car lock. Give us a call if you're having troubles with some of these issues:
Car unlock
Car key programming
Broken keys
Jammed keys inside the lock
Lost keys
Broken lock
Broken trunk lock
Our most requested Ford locksmith services
We have a zero-damage policy when performing any repair or replacement job thanks to your rich years of experience and practice in the field. Why wait in queue for days at your car dealership when you could benefit from fast service on the spat at a fraction of the costs?
Keys locked in trunk
The trunk is the most commonplace that most people keep their luggage, and during retrieval, it is no surprise that you might accidentally lock the keys in the trunk. Unfortunately, most people only take note of the missing keys when they have already locked the trunk. Only a professional FORD locksmith can retrieve the keys from the trunk. Contact us as soon as possible, and we will get you out of the fix.
Ford lock repairs
Problems with Ford locks do happen from time to time. And when they occur, you got to call professionals to sort them out.
Very wise to save our number so that you would be able to call us right away after spotting that there is something wrong with the lock of your Ford.
Broken or stuck key extraction from ignition
Whether your worn-out key has finally caved and broken inside the lock, or you cannot pull it off the ignition, we can assist you with your exact needs.
Allow our well-trained, licensed and insured technicians to safely do the extraction for you and immediately replace any broken or faulty keys.
Lock replacement
If you need to replace the old locks on your Ford with new ones, you require someone to take care of the job professionally. That's why the best thing you can do is hire us. We take care of everything from replacing the locks to testing them.
Emergency Ford locksmith services
Lock problems can happen anytime, anywhere. We're ready to come to your aid, no matter where you might be in Las Vegas.
Something wrong with your Ford's lock? No worries, the concern can go away with a single phone call. Call our Prime Locksmith team, and we will fix your lock!
Ford car owners rely on Prime Locksmith in Las Vegas!
We can provide key replacement services in Las Vegas NV for the following car brands: