Locksmith for Jeep in Las Vegas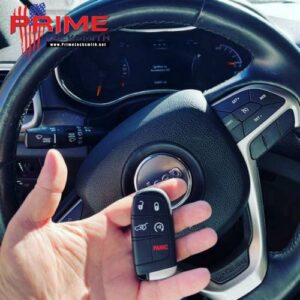 Request a free estimate for
Jeep locksmith services
Jeep car models we services: Jeep Wrangler, Jeep Renegade, Jeep Compass, Jeep Cherokee, Jeep Grand Cherokee, Jeep Patriot, Jeep Commander, Jeep Liberty. If you need a locksmith for Jeep, then you have come to the right place. The above are some of the models our Jeep locksmith professionals can handle.
Call on Prime Locksmith for all your security needs. Our locksmiths specialize in servicing Jeep cars. We can be at your location in 30 minutes, guaranteeing that a Jeep locksmith will assist you.
Have you ever been the victim of malfunctioning door locks, jammed trunks, faulty ignition, and alarm systems with your Jeep? At Prime Locksmith, we have been in business for more than five years and we have risen to be one of the best companies offering Jeep locksmith services in Las Vegas.
Are you having trouble with gaining access to your Jeep of late, maybe it is a malfunctioning remote keyless system, ignition problems, a faulty alarm system? We have dealt with a myriad of problems over the years, and we are extremely experienced in all sorts of security-related issues.
Wide range of Jeep services in Las Vegas
The ideal locksmith ought to have a wide range of services. This ensures that you get what you need in the fastest time possible. We ensure that each of our locksmiths has the proper and the latest tools and resources to provide the services.
Our services include:
Key fob replacement
Transponder key reprogramming
Emergency lockout services
Trunk opening
Lock repair
Door repair
Ignition key extraction
Cutting a replacement key
When you need a professional Jeep locksmith
We know how to expertly get you out of any unpleasant circumstances that involve locksmith services, and while dealerships and many of our competitors charge hefty fees, we will resolve your Jeep key problems at the best rates in the market.
Locked out of your car
There are so many reasons that lead to you being locked out of your car, and it is not an enjoyable experience given that you have appointments to meet and errands to run. This could be because of a broken key in the door, faulty central lock system, stolen or lost keys. Scenarios such as this one need not run for hours before you gain access to your car. Contact us, and we will be at your location in 30 minutes.
Power door locks not working properly
It is standard practice to find power door locks on all Jeep cars, and these too are susceptible to malfunctioning. The minute you notice that your door will not lock from your Jeep key fob, it is time to call us for professional Jeep key replacement services.
Faulty smart Jeep key fob
Sometimes when you press the button, the engine fails to start. One reason for this is that you may not be pressing the brake pedal firmly when trying to start the engine. However, you can also have a faulty smart Jeep key; fortunately, we have some of the most skilled professionals. Contact us as soon as is necessary and you will be back to your schedule as fast as possible.
Why contact Prime Locksmith
Since opening the business, we have earned an elite reputation, and in the process, we have served countless people, a large number of the services being emergencies. We make sure to deliver world-class services. Each minute that passes by when you are locked out of your Jeep aggravates the situation to an emergency. We continue to get referrals from clients, and we ensure that we maintain proper standards in all of our satellite offices.
It does not matter what Jeep make or model you drive, we are the best car locksmiths. We dispatch a professional Jeep locksmith to your location within 30 minutes to fix the problem on the spot and get you a brand new Jeep replacement key.
We can provide key replacement services in Las Vegas NV for the following car brands: