Mazda locksmith service in Las Vegas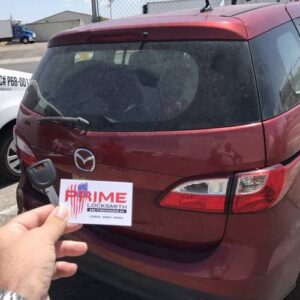 Request a free estimate for
Mazda locksmith services
We can assist Mazda owners with models such as but not limited to: Mazda Tribute, Mazda Speed 3, Mazda B-Series, Mazda RX-7, Mazda RX-8, Mazda 3, Mazda 5, Mazda MX-5, Mazda CX-9. Whichever Mazda vehicle you own, you should know that our locksmith team is who you should call when lock problems happen.
If you own a luxurious Mazda vehicle and you are looking for a trustworthy and professional car locksmith service, call Prime Locksmith for more information on our top services.
It is common for car owners to lose their keys every now and then. Although it is a normal incident, people get irritated and helpless when there's no extra set of keys to get inside their Mazda car. If you want a spare set of keys to help you when you have lost the original set, you must get in touch only with skilled locksmiths for the best assistance.
The team at Prime Locksmith includes a professionals who are not only highly trained but certified as well. So that you can trust them every time. We have decades of experience working on every Mazda model and therefore know how to conduct every locksmithing task perfectly. We usually offer services such as key programming, creating a spare set of keys and key cutting.
The best Mazda locksmith services in Las Vegas
It is no wonder we have repeated customers since we offer exclusive solutions at a budget-friendly cost. This is only made possible because we have all the necessary tools and the best locksmiths on our team. We make sure to train them at regular intervals so that they remain aware of the latest advanced technologies and can use their skills and experience to solve even the most stubborn issues of Mazda models.
Here are some of the Mazda car locksmith services that we provide:
Car lock and key complications
Wrecked ignition
Dealing with lockout conditions
Repairing remote controls of Mazda
Car key cutting
Problems with transponder key programming
Car locks re-key
High-security keys and smart keys
Ignition key services
Opening car door and trunk
Only hire the top Mazda locksmith services!
When you own a car, it is common to face normal locksmithing issues. If you want the best help for car ignition and locksmithing issues, it is suggested that you call us at Prime Locksmith.
We have a group of certified locksmiths who aim to offer top services to clients. Apart from being experienced, we are cost-friendly and always charge the most competitive price. We have all of the necessary tools and equipment so that we can repair your Mazda without causing any damage to its other parts.
We work on our toes all to provide the best services to our customers during emergency situations. In order to reach the destination quickly, we have recruited several mobile vans so that you don't have to wait for a long time for our locksmiths to reach you.
Replacement services and car key cutting
One of the most upsetting conditions is losing your car keys or having them trapped in the ignition. When your car keys are jammed, you can hardly do anything except calling a professional locksmith to get you out of this situation. Car owners who have meddled with stuck keys have only made the condition worse.
Whenever you face issues such as a jammed key in the ignition, it is imperative that you get in touch with top locksmith services such as Prime Locksmith for the best solutions.
Our team members are able to cut the car key for every model of Mazda. Because our locksmiths are trained and experienced, you can only expect the best results. With the use of Codeine machines, we are capable of creating a new key in the shortest time possible.
Key duplication services for Mazda
You must only trust experts when it comes to getting a spare set of keys for your Mazda model. Since we are a team of professionals, we are able to reach your location within half an hour after getting your call. We not only create keys for simple Mazda models but for more advanced Mazda models as well.
We carry cutting-edge technology and the latest tools to make a duplicate set of keys. There is no need to get irritated when you have misplaced the original set of keys. Just give us a call and get the solution to all your issues in no time.
Call us now!
Give us a call at Prime Locksmith and we will make sure to help you fix your Mazda car issues in no time. With a team of dedicated locksmiths and a range of tools, we are surely the best choice in town today!
We can provide key replacement services in Las Vegas NV for the following car brands: